Vectra On-Line 1450 Corner Gym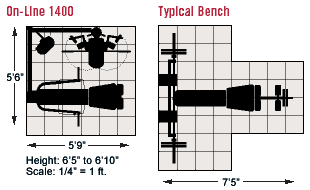 BIG GYM SMALL SPACE
If you have limited floor space, the VECTRA 1450 Home Gym may be the home gym for you. Even a simple Olympic bar and bench require more room than this innovative machine. And what about other small weight machines? With most other machines, you need to perform the exercises, outside the perimeter of the machines itself, requiring about twice the area of the machine's actual footprint.
The 1450, the latest version of the corner unit (pioneered by Vectra), takes up a miniscule 6' x 6' of floor space and can be placed anywhere you want, even against a wall or in a corner. And all of the exercises are performed WITHIN this footprint. The machine surrounds you.

Most small gyms lack the quality of Vectra and don't offer nearly as many legitimate exercises. In addition to the exercises found on most gyms, the 1450 also delivers shoulder shrugs, a greater variety of presses including shoulder presses, squats, calf raises, abdominal exercises, dips and lying leg curls. These "bonus" exercises create a more complete workout. Make the 1450 the Cornerstone® of your training routine.

ADJUSTS TO FIT YOUR NEEDS

All Vectra gyms are designed to provide you with a safe, effective, comfortable workout. A contributing factor is the ability to easily adjust the workout station to fit your unique needs. The 20 position press arm combined with the 7 position bench means near limitless ability to tailor your workout to your goals and flexibility.
Weight Stack: 160 lbs. standard, 210 lbs. available. Powder coated, machined cast iron. Alloy selector shaft for low minimum weight. Premium selector pin. (Add 10 lbs. to all exercises lifting the press arm).
Press Arm: 20 position with ball bearing pivots. Patented release lever functions in both directions for easy adjustment from all exercise positions. Natural arc motion. 1 to 1 lift ratio.
Bench: 7 Position bench with 4 position seat bottom. Rolls on a spring-loaded ball bearing wheel for easy adjustment. New handle for easy positioning and graduated scale help you find the right bench angle.
Leg Developer: Ball bearing pivot. Bench mounted with cam. On-line and ready to use in all bench positions. Easy one-touch adjustment from leg extension to lying leg curl. Contoured, width-adjustable leg rollers.
Cross Chest Fly Arms: 3 swiveling attachment points to fit different users and vary training emphasis. Comfortable elastomeric grips.
Pulleys: Fiberglass reinforced nylon with ball bearing hub.
Cable System: Patented On-Line cable system invented by Vectra Fitness in 1987.
Cable: Internally lubricated, clear nylon coated. 7 x 19 strand construction, aircraft quality. 2000 lb. tensile strength with stainless steel fittings.
Guide Rods: Stainless steel, linear polished.
High Pulley: Infinitely adjustable during assembly from 6'6" to 6'11" (overall machine height). Custom fit to ceiling height and/or primary users.
Frame: Heavy duty welded steel construction. Quality powder coat finish for beauty and durability.
Frame Colors Available: White, Black, Sterling Silver and Classic Pewter.
Upholstery Colors: Black and Grey standard. Inquire about other color options.
Cushions: Seamless cushions, more durable than molded or sewn cushions.
INCLUDED ACCESSORIES
Integral Weight Stack Shrouding
Padded Ankle Strap
Lat Bar, Curl Bar, two Single Handles
Cable Extension
Adjustable Lat Hold-Down
Exercise/Safety Poster
EXERCISES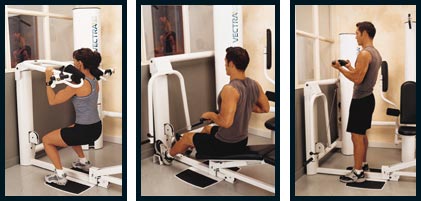 Squat Attachment
Low Pulley access is convenient to execute curls, seated rows and the many other exercises

The Rolling Leg Pads ensure comfortable, effective extensions and curls.
The Lat Pull-Down incorporates a multi-position hold down system, ensuring that the legs are comfortably held in position.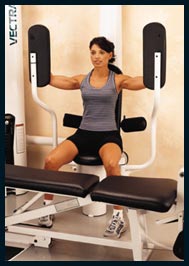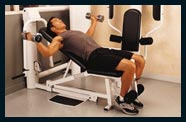 SaveSaveSave<span style="border-radius: 2px; text-indent: 20px; width: auto; padding: 0px 4px 0px 0px; text-align: center; font: bold 11px/20px " helvetica="" neue",helvetica,sans-serif;="" color:="" rgb(255,="" 255,="" 255);="" background:="" rgb(189,="" 8,="" 28)="" url("data:image="" svg+xml;base64,phn2zyb4bwxucz0iahr0cdovl3d3dy53my5vcmcvmjawmc9zdmciighlawdodd0imzbwecigd2lkdgg9ijmwchgiihzpzxdcb3g9ii0xic0xidmxidmxij48zz48cgf0acbkpsjnmjkundq5lde0ljy2mibdmjkundq5ldiyljcymiaymi44njgsmjkumju2ide0ljc1ldi5lji1nibdni42mzismjkumju2idaumduxldiyljcymiawlja1mswxnc42njigqzaumduxldyunjaxidyunjmyldaumdy3ide0ljc1ldaumdy3iemymi44njgsmc4wnjcgmjkundq5ldyunjaxidi5ljq0oswxnc42njiiigzpbgw9iinmzmyiihn0cm9rzt0ii2zmziigc3ryb2tllxdpzhropsixij48l3bhdgg+phbhdgggzd0itte0ljczmywxljy4nibdny41mtysms42odygms42njusny40otugms42njusmtqunjyyiemxljy2nswymc4xntkgns4xmdksmjquodu0idkuotcsmjyunzq0iem5ljg1niwyns43mtggos43ntmsmjqumtqzidewljaxniwymy4wmjigqzewlji1mywymi4wmsaxms41ndgsmtyuntcyidexlju0ocwxni41nzigqzexlju0ocwxni41nzigmteumtu3lde1ljc5nsaxms4xntcsmtqunjq2iemxms4xntcsmtiuodqyideyljixmswxms40otugmtmuntiyldexljq5nsbdmtqunjm3ldexljq5nsaxns4xnzusmtiumzi2ide1lje3nswxmy4zmjmgqze1lje3nswxnc40mzygmtqundyylde2ljegmtqumdkzlde3ljy0mybdmtmunzg1lde4ljkznsaxnc43ndusmtkuotg4ide2ljayocwxos45odggqze4ljm1mswxos45odggmjaumtm2lde3lju1niaymc4xmzysmtqumdq2iemymc4xmzysmtauotm5ide3ljg4ocw4ljc2nyaxnc42nzgsoc43njcgqzewljk1osw4ljc2nya4ljc3nywxms41mzygoc43nzcsmtqumzk4iem4ljc3nywxns41mtmgos4ymswxni43mdkgos43ndksmtcumzu5iem5ljg1niwxny40odggos44nzismtcunia5ljg0lde3ljczmsbdos43ndesmtgumtqxidkuntismtkumdizidkundc3lde5ljiwmybdos40miwxos40nca5lji4ocwxos40otegos4wncwxos4znzygqzcunda4lde4ljyymia2ljm4nywxni4yntigni4zodcsmtqumzq5iem2ljm4nywxmc4yntygos4zodmsni40otcgmtuumdiyldyundk3iemxos41ntusni40otcgmjmumdc4ldkunza1idizlja3ocwxmy45otegqzizlja3ocwxoc40njmgmjaumjm5ldiylja2miaxni4yotcsmjiumdyyiemxnc45nzmsmjiumdyyidezljcyocwyms4znzkgmtmumzayldiwlju3mibdmtmumzayldiwlju3miaxmi42ndcsmjmumdugmtiundg4ldizljy1nybdmtiumtkzldi0ljc4ncaxms4zotysmjyumtk2idewljg2mywyny4wntggqzeylja4niwyny40mzqgmtmumzg2ldi3ljyznyaxnc43mzmsmjcunjm3iemyms45nswyny42mzcgmjcuodaxldixljgyocayny44mdesmtqunjyyiemyny44mdesny40otugmjeuotusms42odygmtqunzmzldeunjg2iibmawxspsijymqwodfjij48l3bhdgg+pc9npjwvc3znpg="=&quot;)" no-repeat="" scroll="" 3px="" 50%="" 14px="" 14px;="" position:="" absolute;="" opacity:="" 1;="" z-index:="" 8675309;="" display:="" none;="" cursor:="" pointer;="" border:="" medium="" none;"="">Save
Vectra is pleased to offer various powdercoat and upholstery color choices for our machines.


Availability or cost may vary. It is best to contact us via phone or chat for additional questions. Thank you


Save
Save